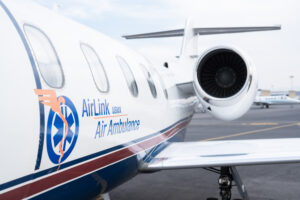 Celebrating our 25th anniversary, we had an exclusive chat with Anne Rodenburg, our Commercial Director, who has been instrumental in shaping the ethos and journey of AirLink Ambulance. Dive in to get her unique perspective on the challenges and rewards of the air ambulance industry.
What first drew you to the air ambulance industry?
I must say that I fell into it! It wasn't a planned decision to get involved in the air ambulance world. However, I have loved it since day 1. Unlike most other jobs, what we do at AirLink has significant impact and meaning to people's lives. There is a huge satisfaction in working for an organization that participates in saving lives or improving someone's health by getting them home or to an improved care facility.
What else inspired you to work for AirLink?
Working in a small, flat, service-oriented organization like AirLink provides a more fulfilling work environment. Decisions are made quick and I truly enjoy the hands-on mentality. The AirLink team cares very much about every single patient, their outcome, and making sure the client is completely satisfied with our service. The kind of dedication and commitment I see at AirLink inspires me every day.  
How has your role evolved at AirLink?
I started working for AirLink as their International Relations Manager for the air ambulance division. After a few years, I took on extra responsibilities and afterwards I got promoted to the Commercial Director of the USMX AirLink group. Currently I have a more strategic position within AirLink. I work part time which enables me to divide my time between work and family.
Can you share a specific mission that stands out in your memory?
Those are definitely the mission where I was physically part of myself. During the years I lived in Guadalajara, I joined a number of flights. I did this to be in touch with operations, to fully understand our services and to learn from the patient's and family members' perspective. I would choose those missions carefully as I wanted to add value. I would pick flights were I could help with language, for example missions of Dutch patients, or flights where family members could use a bit more attention. I remember the emotions and especially the hope. There was one flight where I was praying with a mother while our doctors were busy taking care of her severely burned child. I remember the hugs and the "don't leave me here", the holding hands and the thank you cards. Moments I will never forget. 
In your experience, what personal qualities are needed to work for an air ambulance organization?
I would say empathy. There are so many parties involved in order to provide a successful air ambulance mission, that team work is essential. Empathy is key when working with other people.
Can you share any lessons you've learned or advice for those looking to pursue a career in aviation, specifically in the air ambulance sector?
Go for it! The sky is the limit.
How do you see the future of the air ambulance industry, and what role do you envision for AirLink in shaping that future? 
So many topics to discuss there! I will pick two. First of all, I envision (and wish) the air ambulance industry in Mexico to become more transparent. For years, AirLink have been advocating against doubtful and corrupt practices of some of the industry players in our region. After lots of thought and conversations on how to initiate change, we decided to divaricate ourselves and start a new move. We did that by voluntarily undergoing a comprehensive due diligence process administered by TCompliance, a US third party risk management organization. By doing this, we invested in innovation by creating an official demonstration of commercial transparency. We expect other players in Mexico to follow so together we can create a safer and more transparent provider network in Mexico.
Second of all, I envision (and wish) that our industry becomes greener and eventually environmentally sustainable. Apart from our own micro initiatives within AirLink, such as planting trees, we are in talks with committees and accreditation organizations to see what we can do collectively as an industry.