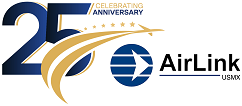 AirLink Executive Flights is thrilled to celebrate our 25th year of delivering unrivaled luxury and convenience in the world of private aviation. For a quarter of a century, we've been the go-to choice for discerning travelers seeking seamless and personalized flying experiences.
Our success is built on a foundation of excellence in customer service, a sophisticated fleet, and a relentless pursuit of innovation. We've had the privilege of flying business leaders, celebrities, and discerning individuals, all while maintaining the highest standards of privacy and comfort.
As we commemorate this silver anniversary, we wish to express our sincere appreciation to our esteemed clients, partners, and team members who have made this journey possible. The road ahead is filled with promise as we continue to enhance our offerings and redefine the executive travel experience.
Join us in toasting to 25 years of AirLink Executive Flights and the many milestones yet to come.